Memory Care & Alzheimer's Unit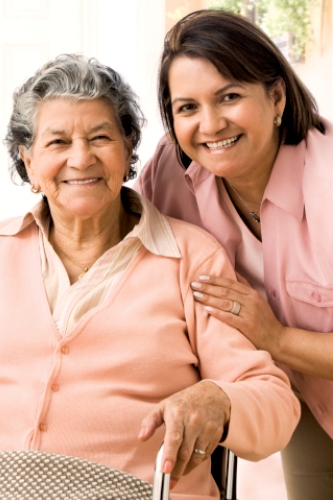 The Healthcare Foundation of New Jersey Special Care Unit at Hirsch Pavilion
Overview of the Special Care Unit Program
Our State-Certified Special Care Unit is designed for the treatment of people suffering from memory impairments due to Alzheimer's Disease and related disorders. We admit residents who are in approximately the early 4th to late 5th stages of the disease, mid-stage dementia. Our supportive therapeutic environment is designed to maintain quality of life with emphasis on the resident's existing abilities. Our Social Activity model creates feelings of usefulness, success and pleasure thereby preserving dignity and self-esteem.
Therapeutic Environment
Our supportive setting includes outdoor patios, indoor lounge spaces and vignette areas. We also offer Snoezelen® Multi-sensory environments, which reduces anxiety, provides stimulation and encourages communication. Directional signage and contrasting colors are employed to help way-finding.
Quality of Life
Our Activity Program is designed to promote success. It includes a full complement of programs supervised by a therapist trained in Activity-Based Dementia Care. Some programs include music, art, exercise, horticulture, religious programs, trips, cooking, outdoor events, Snoezelen therapy, and parties. Programming is scheduled seven days per week, Monday through Saturday until 8 p.m., and Sundays until 4 p.m.
Support Services
Making the decision to place a loved one in a special care unit can be difficult. Our professional staff is trained to provide support groups, offer educational information and referrals to outside support services.
Individualized Plan of Care
Our trained clinical staff gathers as much information as they can in order to provide your family member with a 24-hour daily schedule as close to his or her prior home life as possible. We pay special attention to bathing and grooming rituals, menu likes and dislikes, preferred activities and those areas that provide your loved one with peace and tranquility.
Physician and Nursing Services
Our medical staff is professional trained in dementia care, and our program director is a Certified Dementia Practitioner. We employ Certified Nurse Aides specially training in dementia care to cue residents, so that they maintain their independence for as long as possible.
The Special Care Unit is endorsed by the Northern New Jersey Alzheimer's Chapter.
Special thanks to our benefactors without whom the Special Care Unit would not have been possible: The Healthcare Foundation of New Jersey, Jewish Federation of Greater MetroWest NJ, & The Women's League at Daughters of Israel
back to top